Teamleader Inpak (Nacht)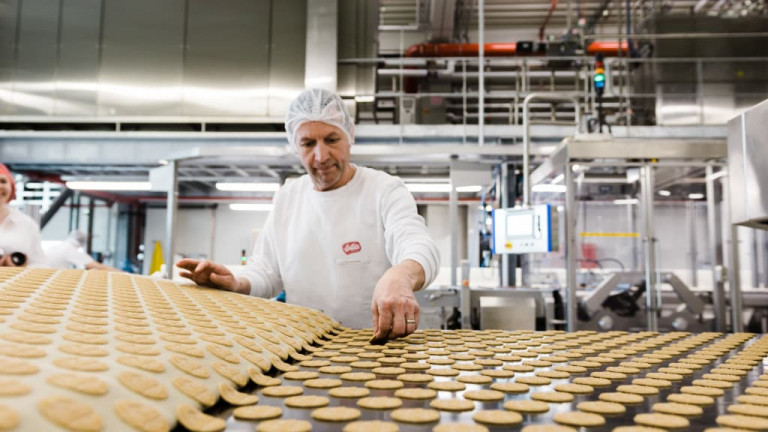 Job description
Als Team Leader Packaging sta je in voor het coachen, ontwikkelen en motiveren van een 40-tal inpakkers en operatoren in de inpakafdeling
Binnen jouw ploeg ben je verantwoordelijk voor het realiseren van de objectieven op vlak van veiligheid, kwaliteit, output, rendementen en uitval
Je begeleidt en ondersteunt jouw team bij het realiseren van procesverbeteringen
Je staat in voor het integreren en toepassen van verbetertechnieken (5S, SMED, PDCA,…)
Je modereert en faciliteert team meetings en volgt continu de lopende teamacties op
Je waakt erover dat de regels inzake kwaliteit, hygiëne en veiligheid nageleefd worden
Je rapporteert rechtstreeks aan de Packaging Manager
Profile
Wij zoeken een leergierig persoon met een bachelor biochemie, voeding, elektromechanica,… die eerste werkervaring op zak heeft en op zoek is naar een job als people manager
OF iemand met enkele jaren leidinggevende ervaring binnen een productieomgeving die gewoon graag met mensen werkt
Je ziet de voordelen van werken in een vaste nachtploeg
Belangrijk is dat je een enthousiaste coach bent die jouw medewerkers kan motiveren, inspireren en vooral waarderen
Vlotte communicatie en luistervaardigheden zijn dus cruciaal
Verder heb je een scherpe analytische geest en goede probleemoplossende vaardigheden
Je kan vlot met Excel, Word en PowerPoint werken en spreekt vloeiend Nederlands
Offer
Wij zijn een no-nonsense onderneming die continu investeert in groei en ontwikkeling! Een cultuur waar passie, team spirit en open dialoog centraal staan en dat is op en TOP! We bieden je een job met uitdaging, verantwoordelijkheden en ruimte voor initiatief met daarenboven een aantrekkelijk salarispakket. Je werkt in een filevrije omgeving en krijgt extra dagen verlof. Last but not least ben je ook nog eens elke dag omringd door overheerlijke, verse koekjes!
Apply for this job
... Or get to know the team
Do you want to be part of a terrific team with the ambition to create small moments of happiness every day? Meet our people, discover their unique skills and get excited to join them in a great work environment.
Meet the team